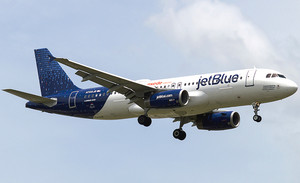 Photo by: Westley Bencon (Date: 11.05.2014)
Airline: jetBlue [N709JB]
Type: Airbus A320-200
Airport: , (MCO)
Comment: jetBlue hat ihre neueste individuelle Lackierung "Binärcode" vorgestellt, die nur einmal existieren wird, um seinen Fly-Fi-Service, das Breitband-Internet an Bord feiern. / jetBlue introduced its newest and one-of-a-kind custom livery, 'Binary Code,' to celebrate its Fly-Fi service, which delivers broadband Internet in the sky.
Photo by: Eric Cesa (Date: 13.05.2014)
Airline: Astral Aviation [5Y-JUU]
Type: Fokker F-27
Airport: Italy, Verona (VRN)
Comment: Ein erste Fokke 27 Frachter für die Astral Aviation hat sich von Bergamo aus auf den Auslieferungsweg begeben. / A first Fokker 27 freighter for Astral Aviation has left Bergamo on its delivery flight.
Photo by: Marcel Schnock (Date: 11.05.2014)
Airline: Braathens Regional [SE-KXK]
Type: Saab 2000
Airport: Sweden, Stockholm, Arlanda (ARN)
Comment: Braathens Regional betreibt seit wenigen Tagen eine ihrer Saab 2000 in SAS Farben. / Braathens Regional operates since a few days one of its Saab 2000 in the SAS scheme.
Photo by: Ilgaz Değer (Date: 12.05.2014)
Airline: AJI Afghan Jet International [A6-JMK]
Type: Boeing 737-300
Airport: , Turkey, Istanbul Sabiha Gokcen (SAW) ()
Comment: Die erste Boeing 737-300 für AJI Afghan Jet International steht jetzt vor der Auslieferung. / A first Boeing 737-300 for AJI Afghan Jet International looks now ready for delivery.