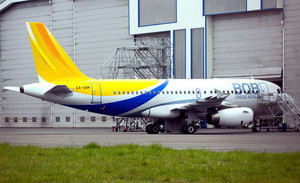 Photo by: Guillaume Carré (Date: 30.03.2014)
Airline: BQB Líneas Aéreas [CX-SAN]
Type: Airbus A319-100
Airport: , (B0D)
Comment: In Bordeaux steht der erste A319 für die BQB Líneas Aéreas vor der Auslieferung nach Montevideo. / The first A319 for BQB Líneas Aéreas is soon ready for its departure to Montevideo.
Photo by: Ilgaz Değer (Date: 27.03.2014)
Airline: Türk Hava Kuvvetleri [95-106]
Type: CASA CN-235M
Airport: , Turkey, Istanbul Sabiha Gokcen (SAW) ()
Comment: Diese CASA 235M der türkischen Luftwaffe hat jetzt die Farben der einheimischen Kunstflugstaffel Turkish Stars erhalten. / This Turkish Air Force CASA 235M is sporting now the current scheme of the national aerobatics team Turkish Stars.
Photo by: Gökhan Sarigöl (Date: 27.03.2014)
Airline: Zagros Air [EP-ZAJ]
Type: Airbus A320-200
Airport: , Turkey, Isparta Süleyman Demirel (ISE) ()
Comment: Der Isparta Süleyman Demirel Flughafen 130km nördlich von Antalya wurde während des altiranischen Neujahrs- und Frühlingsfestes Nouruz von den iranischen Fluggesellschaften recht häufig im Charter bedient. / The Isparta Suleyman Demirel airport, 130km north of Antalya, was served quite often by charter flights during the ancient Iranian New Year and spring festival Newruz by most Iranian airlines.
Photo by: Tomas Cubero Maingot (Date: 27.03.2014)
Airline: LAM Mozambique [N855AM / C9-BAQ]
Type: Boeing 737-700
Airport: Costa Rica, San Jose (SJO)
Comment: LAM Mozambique steht vor der Übernahme einer ersten Boeing 737-700, einer früheren AeroMéxico Maschine. / LAM Mozambique is to take very shortly delivery of a first Boeing 737-700, a former AeroMéxico aircraft